PICK UP
Kyoto

Kyoto Hot Spring

Osaka Kyoto Kansai Region
The garden has a footbath. This ryokan has a strong traditional Japanese ambiance while at the same time providing modern comforts. 25 min by JR train from Kyoto Sta. 60 min by JR train from Osaka Sta.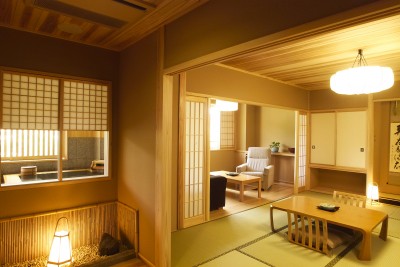 Hokkaido

Hokkaido Region

Jyozankei Hot Spring (Sapporo)

Sapporo Hot Spring
Enjoy Japan hot spring resort in the Jozankei hot spring area, known as Sapporo's "Okuzashiki" (inner parlor). 70 min by bus from Sapporo Sta.
Kyoto

Kyoto Hot Spring

Osaka Kyoto Kansai Region
An inn at the tourist spot of Mount Arashi (Arashiyama), which is about 30 min from Kyoto Sta. An old folk house-style inn built with traditional construction methods. A cozy little establishment with a total of ten rooms. 15 min by JR train from Kyoto Sta. 50 min by JR/Hankyu train from Osaka Sta.

VIEW ALL